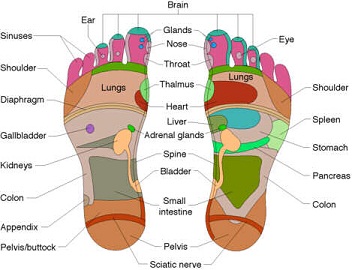 Reflexology is a non-intrusive pressure massage to the feet and / or hands in order to stimulate the reflex points and bring about a balance of the eight bodily systems, thus enabling the body to work together in harmony and unison, creating a feeling of well-being and optimum health.
It is believed the human body is reflected in the feet, a point on the foot which relates to an area of the body is called a reflex. By applying pressure to these reflex points, reflexologists can locate blockages and imbalances and by applying gentle pressure, the flow of the body's natural healing energies can be restored, thus aiding a return to optimum health.
"My first ever reflexology session was with Karen and I found the whole experience a delight. She put me at ease, explained everything to me and made me feel very relaxed. I would thoroughly recommend her.""Perfect treatment to take away the stresses of a busy life. I felt thoroughly relaxed for the rest of the day and slept incredibly well as did my 17 month who also had a treatment"